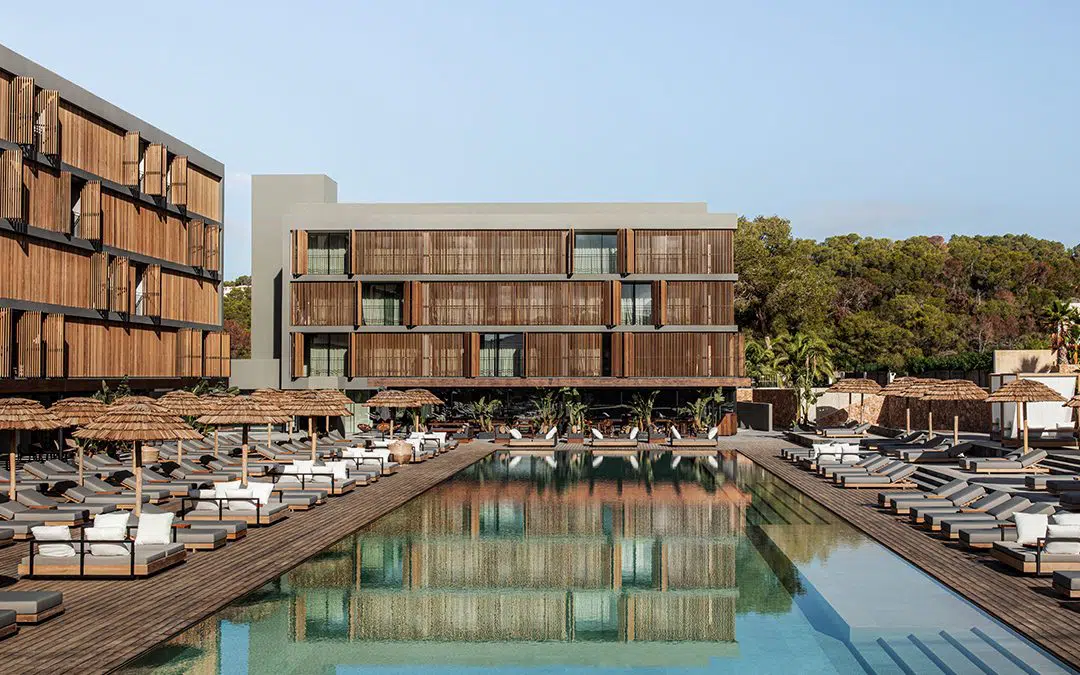 A brand-new soulful hideaway in Ibiza
The new OKU Hotels chain opened last May OKU Ibiza, its first hotel in Spain. A place inspired by the Japanese spiritual and architectural concept of "inner space" – a sacred and hidden space that can only be found when one journeys deep within – which is harmoniously connected with the island.
From the materials used in the construction to the gastronomic concept offered by this 5-star hotel, everything here is based on nature in its purest form, encouraging you to lower the stress level and consciously feel that you are enjoying a well-deserved rest.
OKU Ibiza comes from OKU Hotels, a firm that was started in 2020 with a clear purpose which has been realised in the two hotels opened up to date: Kos (Greece) and Ibiza (Spain). There is nothing better for a brand than consistency, coherence and having a clear concept to transmit, and this is what this new firm possesses and reflects in its hotels: peaceful hideaways based on nature where you can find a connection with yourself.
Destination.
Ibiza connects like few worldwide destinations with the idea that OKU Hotels brings: Beyond its association with nightlife, electronic dance music and the Summer club scene this island, the third largest of the Balearic Islands, has another side that is enriched by the beautiful natural landscapes and peaceful nooks, suggesting that the spirit of the hotel brand has been defined ad-hoc for this magical location.
Where is OKU Ibiza?
This peaceful retreat is located among foothills close to the beautiful Cala Gracio bay and strands.
Our favorites accommodations.
Penthouse.
You will fall in love with the 60 m2 spacious private terrace located on the upper floor of the hotel, with a magnificent view over the bay you can admire without leaving your room.
Swim Up.
An original accommodation with direct access to a semi-private pool only shared with 5 "Swim Up" rooms.
Deluxe Junior Suite.
You will like this spacious 60 m2 room, its large balcony overlooking the big pool and its incredible bathroom with two separate rainforest showers and a double-size natural stone bathtub.
Villa.
It is worth mentioning the villa, a place to accommodate up to 8 persons in its 4 en-suite bedrooms with king-size beds, to enjoy the privacy provided by the exclusive pool and the possibility of hiring a personal chef for an exclusive dinner on the terrace.
More facilites.
There is nothing better to start the day than taking advantage of the yoga classes held every morning. After breakfast you can enjoy the fantastic pool, the island's largest swimming pool, and after a relaxing sunbath, you will have the perfect opportunity to immerse yourself in the SPA and wellness areas to rejuvenate your mind and body with its treatment based on natural products.
The gastronomic proposal comes from Executive Chef Mark Vaessen offering two different options: OKU restaurant which is open for dinner services and offers a mix of Mediterranean and Japanese cuisine (very much in keeping with the hotel and its philosophy) and To Kima, a more informal restaurant which is perfect for discovering its simple dishes with an oriental flavor while enjoying the 50-metre swimming pool.
In the evening, the hotel brings some of the island's vibe to its poolside bar to accompany guests with the sounds of the local DJ. There you can enjoy an aperitif at sunset or a drink after dinner.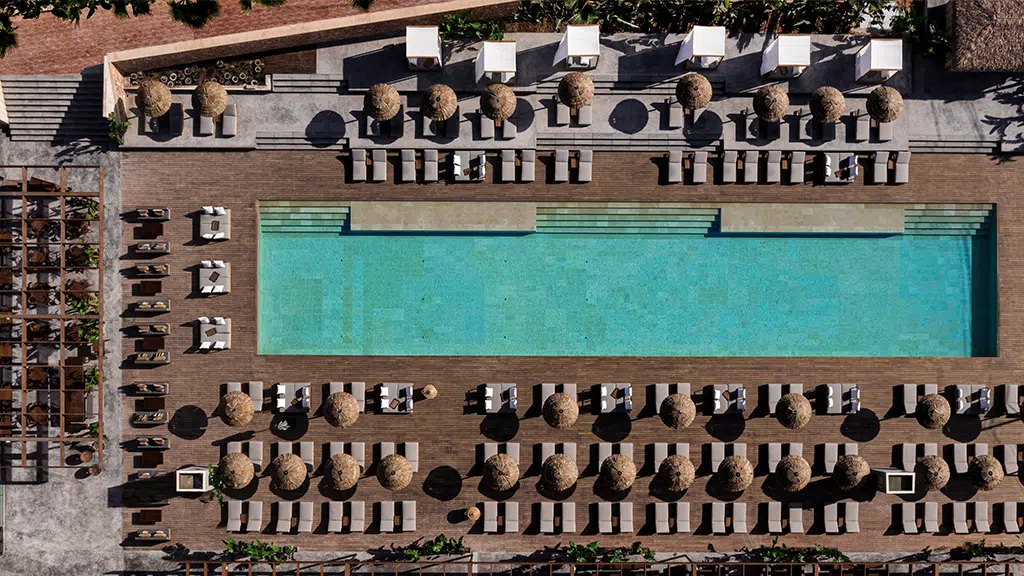 It is a perfect option for those looking to discover the most bohemian part of Ibiza in a relaxed way without sacrificing the luxuries of premium accommodation.
Images courtesy of OKU Ibiza © Georg Roske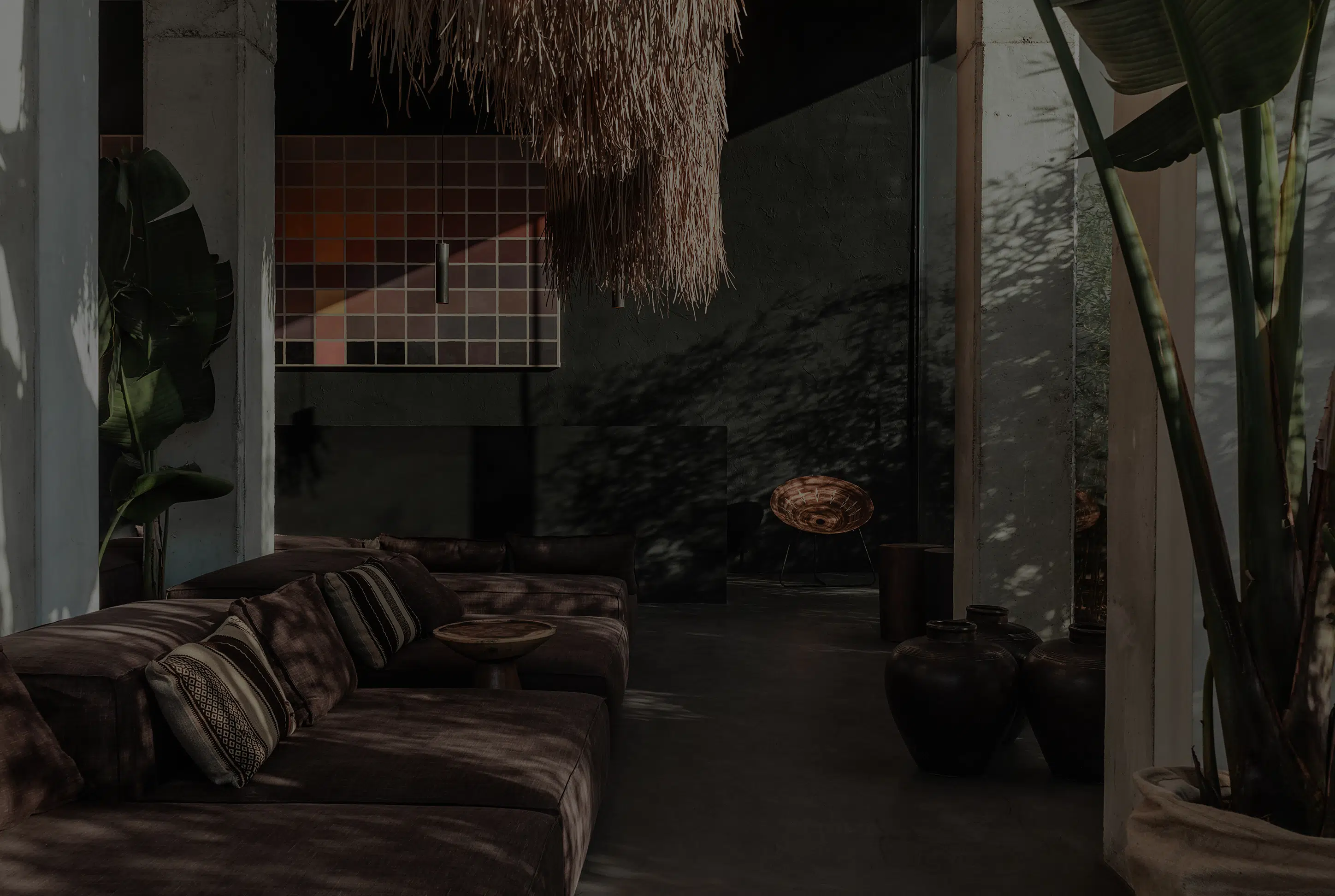 OKU Ibiza will be a part of our new edition of "Hotels We Love", which will be available in Autumn 2021. We will inform you about the advantages of booking this and other selected accommodations through us. In the meantime, why don't you take a look at our 2020-2021 edition?